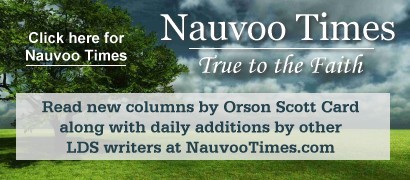 Literature, Logic, and the Scientific Method - Orson Scott Card at Southern Virginia University - October 18, 2013
Orson Scott Card offers an aspirational hymn of his own, "All That the Earth Can Yield," first published in the October 1981 Ensign. The sheet music to three different musical settings can be downloaded here.
Read Orson Scott Card's article A Culture Good and Strong. A speech given to BYU Management Society - DC Chapter - Banquet 24 April 2010


Nauvoo.com is not associated with the city of Nauvoo. If you are looking for information about Nauvoo Please Look here.

Where did Joseph Smith get the idea that "Nauvoo" means "beautiful" in Hebrew? Is that idea correct? James B. Allen gives the answer.
In commemoration of the Dedication of the Palmyra, NY Temple of the Church of Jesus Christ of Latter-day Saints A Brief History of the Hill Cumorah Pageant